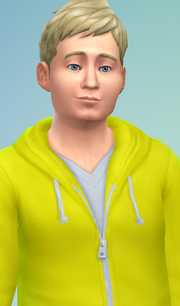 Cameron Masters
Basic information 
Born- March 1992
Species- Full-Wizard
Relationship status- Married
Life status- Alive 
Parents and children
Unnamed parents
Daughter- Isabella Masters
Daughter- Anabella Masters
Son- Noah Masters
Son- Mason Master
Son- Gage Masters
Daughter- Gabriella Masters
Romances
Ruby Fletcher- wife
Residence
Magic realm, W.I.T.S academy- 2016- 2020
Every witch student: Welcome to the academy
"Clean this up and don't let me catch you using magic unsupervised again" Cameron-first-year girls
Basics
Cameron was a new character introduced in the second book. He wasn't very important and didn't even make it through the entire book because he was expelled fromcm the Academy.
Personality
Cameron seemed to be snobby at times and a little full of himself. He was also a complete idiot and pushover. Clueless and oblivious.
Events
In the third chapter, Cameron asked Ruby about her student's progress. Ruby replied they were doing well and gave him a fake smile he saw right through, though didn't call her out. He seemed to be watching her for some reason.
In the fourth chapter, Cameron caught Andi spying on Ruby. Andi told him she had just been checking on her son. Cameron pointed out that Andi had been out in the hall listening into Ruby's dorm room through a closed door for twenty minutes. Andi caught him off guard by asking him, "How do you know how long I've been out here? Hang around Ruby's dorm room a lot do you?" Cameron straightened himself up and told Andi to worry about her students instead of Ruby and hers. Andi walked away and turned around to catch Cameron opening Ruby's door and looking into her room for a few seconds before walking away too. Also in this chapter, Cameron turned Ethan, Emily, Jessie, Gracie, and Sienna in to Aggie after having caught them out of bed after hours.
Being used by Ruby
Cameron's crush on Ruby was discovered by Emily, in the fourth chapter, when she overheard and saw him talking to a hand mirror in his dorm room practicing asking her out. (Emily thought she had been undetected during this but it was later revealed Cameron had seen her spying on him and had told Ruby.) Later in the fourth chapter, Cameron asked her if she was free that night and Ruby replied she had tons of homework. Cameron offered to finish her homework for her that way they could go for a late night picnic on the moon. Ruby's response was, "in that case, meet me in the atrium in ten minutes." This response made it sound like Ruby had only agreed to the date because Cameron had offered to do her homework for her. This was the case. In the fifth chapter, Ruby was getting annoyed with Cameron after just a few days of using him to get out of doing her homework and to get out of her guardian responsibilities. She was annoyed by him because Cameron followed her around and asked her millions of questions all day long.
In the seventh chapter, Ruby convinced Cameron to take blame for sending Andi to the dark river which got him expelled. The point of this was to get Aggie out of suspicion that Andi had learned anything about Phillip, and to get rid of Cameron.